New Book: Digital Intermediation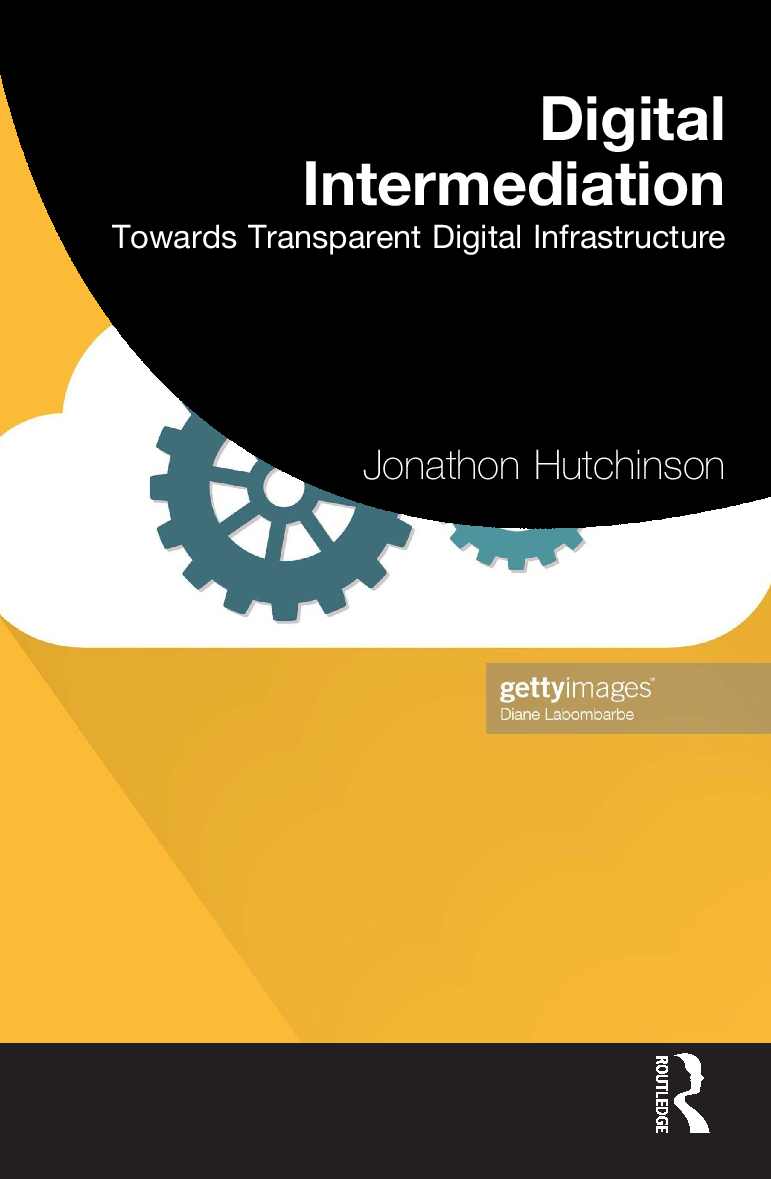 It is with great pleasure I can share the publication of my new book, Digital Intermediation: Unseen Infrastructure for Cultural Production.
https://www.taylorfrancis.com/books/mono/10.4324/9781003177388/digital-intermediation-jonathon-hutchinson
This book offers a new framework for understanding content creation and distribution across automated media platforms – a new mediatisation process. The book draws on three years of empirical and theoretical research to carefully identify and describe a number of unseen digital infrastructures that contribute to predictive media (algorithmic platforms) within the media production process: digital intermediation. The empirical field data is drawn from several international sites, including Los Angeles, San Francisco, Portland, London, Amsterdam, Munich, Berlin, Hamburg, Sydney and Cartagena. By highlighting the automated content production and distribution process, the book responds to a number of regulatory debates emerging around the societal impact of platformisation. Digital Intermediation: Towards transparent digital infrastructure describes and highlights the importance of key developments that help shape the production and distribution of content, including micro-platformization and digital first personalities. The book explains how digital agencies and multichannel networks use platforms strategically to increase exposure for the talent they manage, while providing inside access to the processes and requirements of developers who create algorithms for platforms. The findings in this book provide key recommendations for policy makers working within digital media platforms based on the everyday operation of content production and consumption within automated media environments. Finally, this book highlights user agency as a strategy for consumers who seek information on automated social media content distribution platforms.
As with all new publications, Routledge have provided a 20% discount for all purchases – please use code AFL03.
Also, a series of book launches are underway from August through to October in Australia, so looking forward to seeing those who can travel to the following locations:
9 August – News and Media Research Centre, University of Canberra
20 September – Digital Media and Research Centre, Queensland University of Technology
27 September – AI Governance and Trust in Digital Societies, University of Sydney
19 October – RMIT University
https://jonathonhutchinson.com.au/wp-content/uploads/2023/08/9781032011479_template_hss2d-pdf.jpg
1179
771
Jonathon Hutchinson
https://jonathonhutchinson.com.au/wp-content/uploads/2019/01/cropped-JH_Logo_icon-150x150.jpg
Jonathon Hutchinson
2023-08-09 11:09:21
2023-08-09 11:09:24
New Book: Digital Intermediation